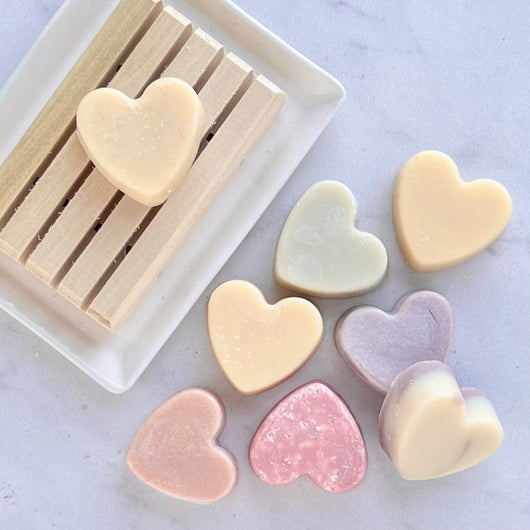 Bar Soap: Tiny
A tiny version of our best selling soap!
Perfect size for travel, or leaving for guests in a spare bathroom. 
Please note: these soaps come unlabeled!
Our bar soaps are handmade in small batches following the traditional cold process method. We hand stir, hand pour and hand cut all of our soaps. 
Features:
Coconut oil - the main cleansing oil. It softens skin, relieves dryness and flaking, nourishes all skin types and is also excellent for people with skin conditions. It produces a very bubbly lather and hard bar of soap
Olive oil - the main moisturizing oil. It is very gentle, can be used for all skin types and is beneficial for people with sensitive or dry skin.
Castor oil - an additional moisturizing oil. It gives the soap a rich and creamy lather. 
Cocoa butter - stabilizes the hardness of the bar. Excellent for conditioning skin and retaining valuable moisture. 
Weight: each tiny soap weighs approximately .6 oz
Size: 1.5" wide x .75" thick
Charcoal with Lavender & Tea Tree: olive oil, distilled water, cocoa butter, coconut oil, sodium hydroxide, castor oil, pure essential oils of lavender and tea tree, activated charcoal
Citrus & Sea Salt: coconut oil, pink sea salt, distilled water, sodium hydroxide, olive oil, cocoa butter, pure essential oils of grapefruit, lime & litsea cubeba, pink kaolin clay
Eucalyptus Lemon & Sea Salt: coconut oil, pink sea salt, distilled water, sodium hydroxide, olive oil, cocoa butter, pure eucalyptus lemon essential oil
Gardener's Scrub: olive oil, distilled water, cocoa butter, coconut oil, sodium hydroxide, castor oil, pure essential oils of lavender, rosemary and peppermint, poppy seeds, cornmeal 
Honey Oat: olive oil, goat's milk, cocoa butter, coconut oil, sodium hydroxide, castor oil, organic oatmeal, raw honey 
Lavender: olive oil, distilled water, cocoa butter, coconut oil, sodium hydroxide, castor oil, pure lavender essential oil, purple brazilian clay
Lavender Mint: olive oil, distilled water, cocoa butter, coconut oil, sodium hydroxide, castor oil, pure essential oils of lavender & spearmint, white kaolin clay
Lemon Rosemary: olive oil, distilled water, cocoa butter, coconut oil, sodium hydroxide, castor oil, pure essential oils of lemon and rosemary
Lemongrass Pumice: olive oil, distilled water, cocoa butter, coconut oil, sodium hydroxide, castor oil, pure lemongrass essential oil, ground pumice
Orange Spice: olive oil, distilled water, cocoa butter, coconut oil, sodium hydroxide, castor oil, pure essential oils of orange, cinnamon and clove, white kaolin clay
Patchouli Citrus: olive oil, distilled water, cocoa butter, coconut oil, sodium hydroxide, castor oil, pure essential oils of dark patchouli, grapefruit and orange
Peppermint: olive oil, distilled water, cocoa butter, coconut oil, sodium hydroxide, castor oil, pure peppermint essential oil
Pine & Balsam: olive oil, distilled water, cocoa butter, coconut oil, sodium hydroxide, castor oil, pure essential oils of pine needle and balsam fir, french green clay
Tea Tree, Rosemary & Peppermint: distilled water, coconut oil, olive oil, palm oil, castor oil, sodium hydroxide, pure essential oils of tea tree, rosemary & peppermint (our shampoo bar but perfectly acceptable as body soap)
Wild Dandelion & Honey: olive oil infused with dandelions, dandelion tea, cocoa butter, coconut oil, sodium hydroxide, castor oil, kaolin clay, annatto seed powder, raw local honey