THE BASICS OF BEEDANDY
Our Products
All of our products are 100% pure and 100% natural. Handmade in small batches.
SAFE - ECO FRIENDLY - AFFORDABLE
Our Philosophy
We are a small business started on the belief that what you put on your body is just as important as what you put in your body. 
Ingredients We Use
beeswax, botanicals, dried herbs, hard butters, liquid oils, naturally colored clays, pure essential oils
Ingredients We Will Never Use
artificial fragrances, artificial preservatives, chemicals, fillers, parabens, phthalates, sulfates, surfactants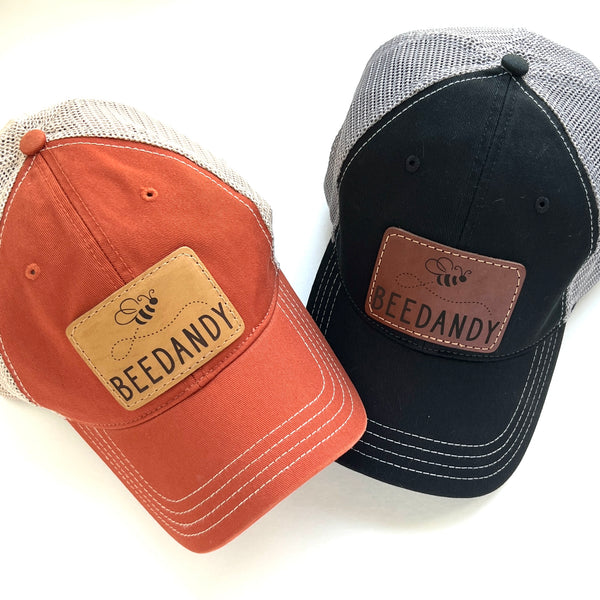 NEW IN THE SHOP!
This garment-washed, mesh back trucker cap is all about comfort and fit. Featuring a leather patch precisely engraved and stitched right here in Maine. Available in 2 colors.
SHOP HATS
Testimonials
I am blown away by these products! Very high quality, so affordable, and the customer service was excellent! I was skeptical about the deodorant, as I have tried natural ones before that were sticky or just didn't work. Yours goes on dry and lasts all day.

Victoria M
I can't live without the body butters - for me and for my baby (cloth diaper safe). My mom is now hooked on it, too! My skin has never felt and looked better.

Esther S
The lotion bar has transformed my hands in ways I know words will not do justice. I usually have multiple cuts and cracks along every knuckle and around my fingernails. I have been using the lotion bar a couple of times a day and my hands are smoother than they have ever been! No cracks! I can't say enough good things about this product!  So I just wanted to let you know - you have made my winter so much more bright!

Margaret D