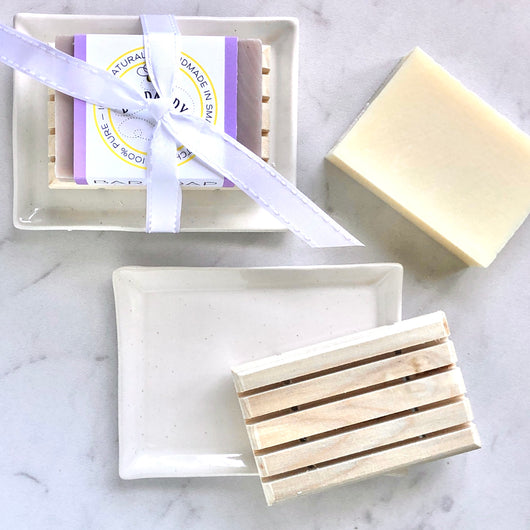 Set: Bar Soap & Dishes
Regular price $20.00 Sale
Featuring our handmade soap, hand cut wooden draining soap dish and locally made ceramic soap dish. Tied together with white ribbon. 
The perfect combination for a practical, functional and pretty gift!
Our bar soaps are handmade in small batches following the traditional cold process method. We hand stir, hand pour and hand cut all of our soaps. 
Features:
Coconut oil - the main cleansing oil. It softens skin, relieves dryness and flaking, nourishes all skin types and is also excellent for people with skin conditions. It produces a very bubbly lather and hard bar of soap

Olive oil - the main moisturizing oil. It is very gentle, can be used for all skin types and is beneficial for people with sensitive or dry skin.

Castor oil - an additional moisturizing oil. It gives the soap a rich and creamy lather. 

Cocoa butter - stabilizes the hardness of the bar. Excellent for conditioning skin and retaining valuable moisture. 
Weight: each bar weighs a minimum of 4 oz. 
Size:  3.5 x 2.5 x 1 inches
This simple one-piece wooden dish has plenty of drainage, which allows your handmade soap to dry between uses so it lasts longer.  Use it in the shower, on the edge of the tub, or ideally in combination with our ceramic soap dish. 
Made of natural unfinished poplar.
And of course, handmade by us! 
Size: 2.5" x 4" x .75"
* Due to the nature of the product, variants in wood color and pattern will vary slightly
Our ceramic soap dishes are intended to be used underneath our wooden option, to collect the run off water. We do not recommend placing the soap directly on the ceramic dish, as the soap needs to be able to dry between uses. 
This ceramic dish features a simple design that will fit with any decor. The 'oatmeal' glaze is an off white color with subtle tan speckles.

Handcrafted by a local potter exclusively for us - featuring the work of Tatnic Woods Pottery in Wells ME. 
Size: 3.75" x 5.25" with approximately a .5" raised lip 
* Due to this product being handcrafted, the exact shape and coloring will vary slightly.